Please note: mosaic kits are no longer manufactured nor sold.
Sale of mosaic kits for adults and children
Discover the 'Art History mosaic kits collection'!
A creation and sale of mosaic kits as arts and crafts activity for the whole family!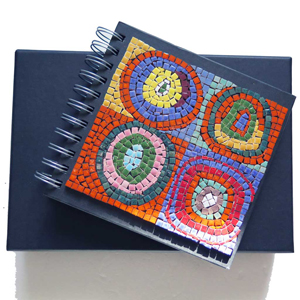 Are you looking for arts and crafts dealing with Art History? and the evolution of mosaic technique alongside civilisations?
Then, this mosaic kits collection is for you!
Discover the Arts and Crafts mosaic online shop created by the Stuc & Mosaic studio: a new educational arts and crafts online shop dedicated to art history, mosaic materials and technique.
These kits have been designed as an introduction to the evolution of mosaic technique and history. The mosaic kits include a short summary of Art History, according to the historical period of the pattern.

Discover the

exclusive mosaic kits

sold in Arles Museum!
The high quality materials are easy to use: the very tiny 5mm tiles in glazed mosaic (also sold on their own) are ideal to create a small pattern with the tweezers and cutting pliers.
Opportunities to offer as a gift a 'hand-crafted' mosaic creation are plenty (birthdays, mothers' days… etc) and the kits suggested in this online shop gather 3 gifts in 1:
an

educational kit

to get an introduction to mosaic and art history,
a

photo or drawing album

ready to use,
a custom-made creation to offer to a close relative!
And if manual works were healthy for children?
Offer an artistic manual work to a child so that he/she can discover in a funny way the art history and mosaic technique, while making a hand-made creation!
This is a clever educational activity to keep children busy for hours! It may also be a family activity…

Did you know that mosaic making was an incredible 'anti-stress' activity for adults?
Are you interested in the Antique period?
Do you like Art Nouveau?
Do you prefer the modern period?
Enregistrer
Enregistrer
Enregistrer
Enregistrer
Enregistrer