Waxed concrete and mosaic? a very contemporary style!
Initially used on large floor areas in industrial premises or lofts, nowadays waxed concrete draws attention to its trendy contemporary style! Waxed concrete and mosaic: a perfect combination!
New ! Polished marble mosaics cut very thin, to fit harmoniously into a waxed concrete.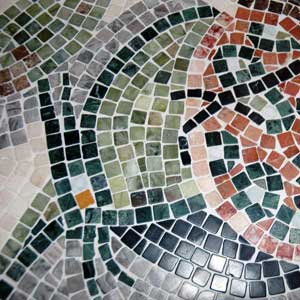 Waxed concrete and mosaic distinguish themselves in high end modern Interior Design because of the quality standards their making require.
Both of them combine resistance and an aesthetically pleasant look. These ornamental floorings can be laid as outdoors or indoor floor coverings. They can be used to decorate professional premises (shops, businesses…etc) as well as a private contemporary Interior Design filled with modern furniture. In this ambience, an abstract contemporary mosaic can harmoniously fit into a minimalist decor
For a sustainable waxed concrete coating entrust a professional craftsman, specialized in the following techniques : smooth finish mortar (finishing very similar to the lime stucco) or self-leveling mortar (uniform).
Try a free form mosaic (without a geometric shape)

!

Contact me for your decoration project!
I can realise for you a very thin and polished mosaic (until 4/5mm), which can be adjusted to the surrounding floor covering in order for the whole surface to be plane.
Since waxed concrete can be laid evenly by hand, a mosaic of any geometric or undefined format may be inserted (such as the remains of an old mosaic which may be installed in different areas of the room). These chosen materials can inspire creativity, while preserving a contemporary and elegant style to an ornamental floor.

This ornamental decor (initially created from a pattern, a sketch or a photo) can be totally customized. Mosaics offer then a very distinctive style to a bedroom, a bathroom, a living room or even a doorstep.

Unlike Lime stucco traditionally used as a stone wall protection, waxed concrete can be applied onto a wide range of both new and renovated modern surfaces. It is proposed into a large range of colours and the varied chromatic and finishing schemes bring out the material's charm and sensuality…. particularly on floors!
By contrast, a mosaic inserted into a tiled floor or a wooden floor, may be set into a stainless steel frame and will be created in a proportional dimension to the surrounding tiled floor (60 x 60 cm for 30 x 30 tiles for exemple… etc).
In Interior Design: an ornamental flooring decor can be inserted into a contemporary kitchen featuring stainless steel, waxed concrete, wood and natural stones.

An artistic touch to the room may be added with a mural mosaic ornamenting a kitchen (marble is treated for stains), or a wash basin made out of natural stone decorated on top with a customized marble mosaic.

Enregistrer