Realisation
Belle Epoque mosaic restoration and renovation. A beautiful pavemental Belle Epoque period mosaic in a private property in Nice (Cimiez)! Mosaic restoration in collaboration with the sculptor J.Michel Labarre.
Mosaic restoration
Renovation in situ: replacement of damaged tesseraes with new marble ones, cut with a hammer and hardie. Repair of the missing mosaics. Cleaning, sanding and marble mosaic finishings.
Materials used
Marble tesseraes.
Mosaic dimension: 30 m 2
Date of mosaic restoration: 2015
---
Belle Epoque mosaic restoration or ancient mosaic Restoration
Highlight your architectural heritage!
The city of Nice in south east France is a classic example of Belle Epoque heritage: rich in ornamental mosaics, frescoes and other decorations, but some serious mosaic restoration is needed today!
Mosaic restoration can increase the value of a Belle Epoque property…
La Belle Epoque was a period in Western European history, and in particular French history, where the arts flourished and people started to enjoy life again after a period of war, instability and hardship. It is most often dated from 1870 to the outbreak of the First World War in 1914. Many properties in the Cimiez district and the centre of Nice reflect the charm of this era. La Belle Epoque has left many decorative reminders from this rich period: floor tiles, wall tiles, mosaics, ornamental ceramics, fresco paintings, mid-reliefs, sculptures, colourful facades and many more.
A brief history of Nice.
With the discovery of therapeutic sea baths and the birth of thalassotherapy, Nice experienced a spectacular urban development. At the end of the 19th century, the railroad brought the first tourists, or "swimmers", to Nice, along with an influx of the rich upper-class: bourgeoisie or aristocracy of the time. These visitors settled there and began to build the first second homes on the French Riviera.
The eclectic style of these houses, fueled by developments in architecture, art, design and crafts, testifies to this time: mosaic friezes, masks sculpture, high-relief motifs, medallions, mouldings, stained glass, metalwork and ornamental woodwork etc.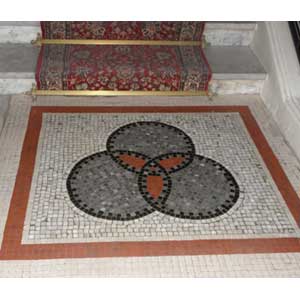 Most of these homes were called "villas" to distinguish them from other equally refined constructions like small "investment properties": a new concept at the time. These buildings, also called as 'buildings with a common roof' developed as a real estate investment, consisted of a few floors, divided into several apartments which were then rented by one or more owners.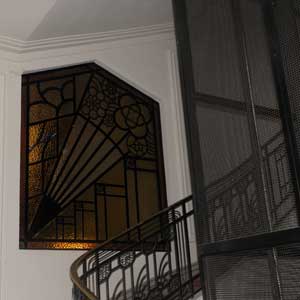 These 1900th century investment properties were incredibly refined. Most buildings had a lobby and common areas to help encourage community and the well being of new 'tenants'. They also had central heating and other modern comforts, sophisticated wooden elevators, halls decorated with frescoes and ornamental mosaics, indoor fountains etc…
Heritage mosaic restoration for private people or condominiums: restore old mosaics!
These Belle Epoque buildings present a historical heritage of that period which justifies conservation, restoration or renovation.
Mosaics of that period may need restoration as they degraded over time and have sometimes been harmed by scouring or unsuitable modern cleaning chemicals…
For your small or large Belle Epoque mosaics restoration: talk to a professional mosaic artist!
Enregistrer