Villa Kerylos is a beautiful historical heritage from the 1900's.
The architecture of the Villa Kerylos, which construction ended in 1908, is aligned with the earliest years of the Belle Époque.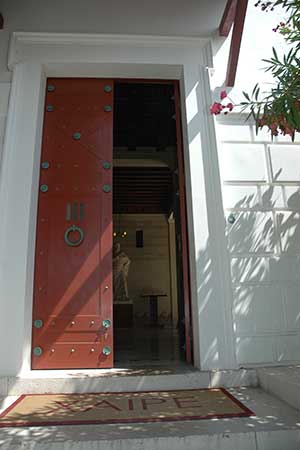 The Villa Kerylos was elegantly modelled on the Antique Greek Period but it was also designed with all the modern conveniences of the 1900's.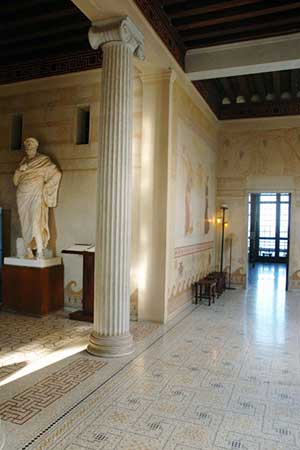 This Belle Epoque masterpiece was created thanks to the talent of two passionate hellenists. Théodore Reinach, the wealthy owner was an erudite specialist in greek Antiquity and Archeology, but also philologist, musicologist, to name but a few of his titles. Emmanuel Pontremoli, the architect, was a renowed professional, grand prix de Rome and member of the Fine Arts Academy. He inspired himself from the architectural model of the noble houses of Delos, in Greece.
These two famous hellenists shared their passion for the Antique Greece Period while creating this ideal architectural style which combines perfectly modern functionnalities and the refinement of the Antique Period.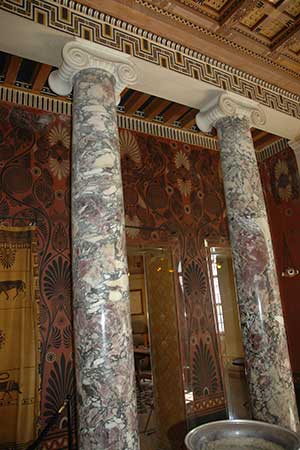 A sumptuous interior design!
Mural and floorings decorations are luxurious.
For the realisation of this unique decor, some rare materials have been chosen: magnificent veined marbles such as sarravezza marble, Carrara white marble, Sienna marble, bronze, silver, white stucco reliefs…etc
Walls are adorned with frescoes.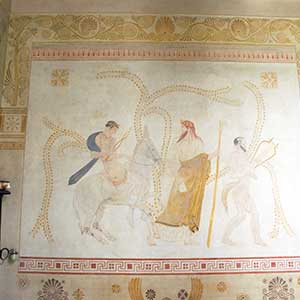 Modern comfort with highly decorative conveniences!
The ornamentation is stylised and designed with an uncluttered functionality. The Villa benefits from all modern comfort: hot water, heating system, modern shower…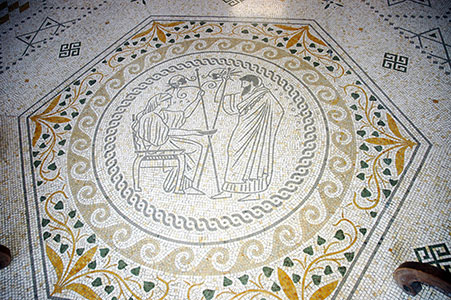 Just one step away from the Art-Deco furniture's style…
The modern furniture is made out of precious exotic wood (Australian plum tree, American walnut tree, lemon tree, pear tree…etc) with delicate ivory inlays and leather.
It has been entirely custom made by a famous craftman of that period.
This unique furniture reminds the search for functionnality and refinement of the Art-Deco period emerging at that Period of Time.
Beautiful and unique, the modern house Villa kerylos, completed in the early 1900s, is made according to the Neo-classical style.
It represents the link between the everlasting beauty of the Greek Period and the influence of the modern artistic evolution of the 1930's Period.
The architect Pontremoli, who has entirely designed the ornamentation and furniture of the Villa, distinguishes himself as a precursor of the Art-Deco Period.
The Art-Deco period represents the last main presence of the Arts and Crafts integrated into the Architecture: ironworks, carpentry, stained glass or mosaics.
But as far as mosaic artworks are concerned, a large Art-Deco heritage remains: read about 1930's art deco mosaics.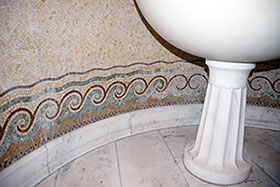 Enregistrer