Mosaic with gold smalts (Venetian smalts)
The mosaic with gold smalts: prestigious!
Gold smalts were used as symbols for the precious and sacred during the Byzantine period. Today, they remain largely used for their artistic characteristics and because they reflect elegance and luxury.
Smalts in gold are hand-crafted according to a very ancient method: a gold leaf, usually a 24 carats, is melted at a very high temperature between two transparent glass layers (this is how a smalt is made).
This traditional making results in an irregular surface, which reflects the light on the gold and allows a very peculiar shine.
Gold is perfect to highlight a symbol, a distinctive sign or a Brand name…
See hereafter, some photos of signs in Nice, enhanced with smalts in gold and integrated into different architectural styles.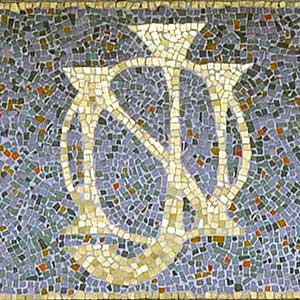 Juxtaposed to some mat marble or coloured smalts, the gold prestige is perfect for the creation of logos, brand names in mosaic, initials of a prestigious brand with mosaic. Gold reflects instantaneously the high-end characteristic of a brand, whereas the mosaic makes it durable.
Here is another example of a brand which choose to illustrate its logo, with a magnificent mosaic. Gold, symbolises here the elegance, the luxury and preciosity.
This isn't a coincidence it this famous Brand has chosen the mosaic to illustrate its signature, combining Tradition and Modernity. A mosaic art that is entirely hand-made with attention to detail, is similar in some ways to 'haute couture'. Thousands of tesserae, cut with a hammer and hardie and assembled one by one create an artistic mosaic. The pattern is often unique, exclusive and tailor-made. Know-how brings together quality and beauty in the details with an artistic taste.
Order an exclusive mosaic at the Stuc & Mosaic studio!
A mosaic with gold smalts for the creation of a Brand signature or high end logo!
In the Stuc & Mosaic workshop, high-end mosaic artworks are cared for, with art and professionalism.
View below some Brand signs created in the Stuc & Mosaic studio:
Do you wish to distinguish your Brand with an artwork which will emphasise the prestige of your business?
Do you wish to illustrate your Brand with a unique high end logo?
Do you have a project? Give me details and I will send you a quotation!
Mosaic creation of emblems, heraldry, blazon, coat of arms, escutcheon, brand, symbol or insignia
from a model, historical search, period and architectural style for Heritage restorations.
For private people, the creation of an elegant lettering or even a doorstep with the initials of a Villa, may also nicely indicate the period or style of the real estate.
Enregistrer